Rollsec now manufactures their own range of Architectural cladding, perfect for a modern finish for shop fit outs or wall cladding.
You may be eligible for a discount. Request pricing for competitive rates.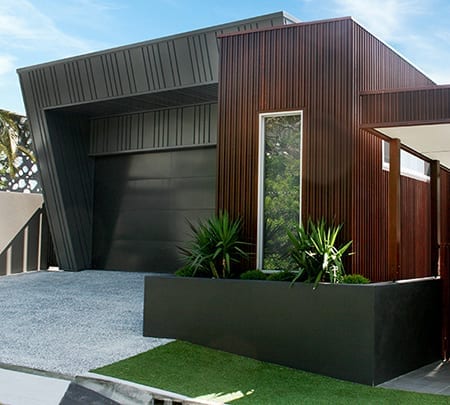 Rollsec Architectural Cladding
The range features five different profiles or the option to design your own!* These profiles are available in 0.55mm or 0.75mm in the full range of UniCote colours or can also be manufactured in UniZinc, Copper or Stainless Steel. Rollsec are your local supplier of top-quality architectural cladding in Brisbane. Our range of architectural cladding is the latest on the market, offering a broad spectrum of design choices and excellent architectural solutions.
Our Range
This new modern architectural cladding is used for many different purposes. It is ideal for exterior upgrades, practical wall cladding, and is highly adaptable to personal design preferences.
This new type of cladding is definitely a step up from the standard cladding used Australia-wide for many years. Architectural cladding is extremely versatile. It's used in a variety of commercial and industrial designs for its reliability and durability.
Typical uses for modern architectural cladding include everything from shop fit outs to large-scale wall cladding and feature walls. This cladding is also highly cost-effective, being much cheaper than alternative materials, particularly for larger buildings.
Our Arkiclad Range
Rollsec offers the new Arkiclad range of architectural cladding, including:
* UniCote Steel
* UniZinc
* Copper
* 316 Grade 2B Stainless Steel
* And more…
This range covers a spectrum of colour choices and design options for different exterior building needs. At Rollsec, we've created a number of basic design options but we are available to work closely with our customers on bespoke projects.
Architectural Cladding Flyer
Download Architectural Cladding Flyer
Talk to Rollsec about Architectural Cladding in Brisbane.
To find out more about our Arkiclad architectural cladding range, call Rollsec on (07) 3041 4980 or contact us online and talk to our cladding specialists directly. We are happy to provide any guidance, technical and costing information that you require for your project.
Please contact us on 07 3041 4980 or sales@rollsec.com.au to obtain a price for architectural cladding.
* Restrictions may apply. Subject to availability.